Thinking of sending a gift box to somebody? Or perhaps you want to sell candy online. When it comes to packaging candy for shipping, there are a few tips you'll need to keep in mind to ensure your product arrives in good condition:
First, consider the type of candy you are shipping. Softer confections such as gummies or marshmallows will need a bit more protection than hard candies like lollipops. A rule of thumb is the packaging should be airtight. Most candies deteriorate quicker when exposed to open air.
You'll also want to take into account the size, shape, and weight of the candy. Smaller, bite-sized pieces can be shipped in a regular insulated mailer envelope, while larger pieces or those with irregular or fragile shapes will need to be packed in a box with bubble wrap or similar material.
When sending any type of perishable food through the mail, some (literal) bumps in the road are inevitable. Candies that are sent through the mail won't always look like how they were before getting shipped. Some may melt or some pieces may break. So how do we deal with this?
Try to keep the product as fresh as possible and as close to what is advertised. For an extra level of protection, expedited shipping such as one-day or overnight will help candies be exposed to less heat and lower transit times. Lastly, having your box fit snug is important to reduce the amount of collision with your sweets!
How to ship candies without melting
Keep in mind that some places can get really hot (depending on the season or location) which can impact the quality of the candy. If you are sending candies to a warm place, it's always going to be a gamble on whether they melt (especially chocolates). Here are some quick helpful tips to protect them during transit.
Frozen gel pack
Proper insulation
Sealed food-grade packaging
Dry ice pack
Sometimes the heat is inevitable, especially during transit as the packages sit in storage. This will cause hard candies to get a little sticky, which is fine. Wrapping individual pieces prevents the candy from clumping together.
However, the best way to keep candies from melting is to avoid having them sit in the mailbox for too long. Have the recipient stay updated with the tracking to avoid keeping the package sitting in a hot mailbox.
How to ship chocolates in warm weather?
Chocolates are especially heat-sensitive, so how can you ship them to warm places? If you are using commercial-grade chocolates like a chocolate bar, don't worry too much about the heat. These chocolate bars contain wax which allows the chocolate to withstand long shipping conditions.
For delicate chocolate pieces such as bon bons, a little precaution is needed to make sure they don't melt. Here are some packing materials that may prove to be helpful:
Cool gel packs or dry ice packs
Ideally, the packs should not be making any direct contact with the chocolates. I like to wrap the cold packs in paper towels and then seal them in 2 plastic bags to avoid moisture accumulating near the chocolate.
For delicate chocolates, cool packs and expedited shipping is enough to keep it from melting. Though some have reported shipping with transit times over 5 days where the chocolate and packs stayed cool.
Insulated lining or box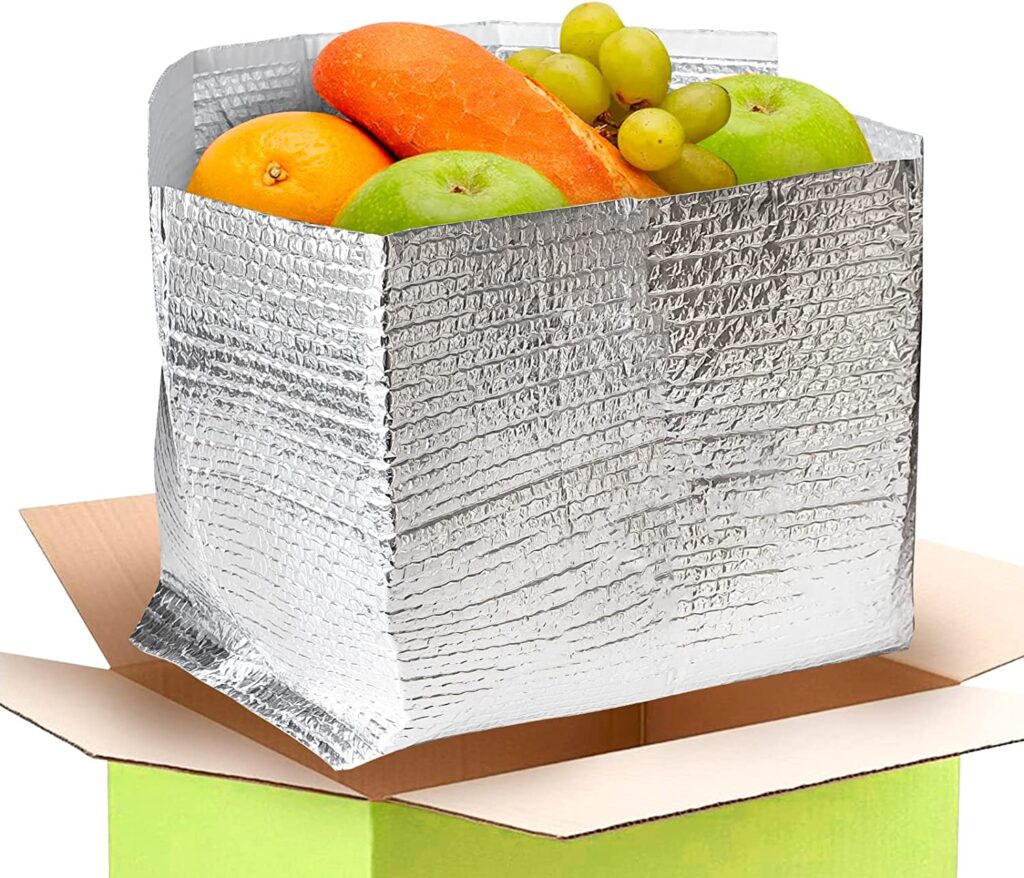 To ship delicate chocolate pieces, a thermal lining along with cold packs can keep the internal temperatures down during and after transit.
Depending on the weight or size of the chocolates, you'll want to use thermal lining packaging for the chocolate.
A styrofoam box could also work as it is both lightweight and insulating. This will allow you to pad and cushion the chocolates while keeping the internal temperature cool with cold packs.
This is a slightly more costly option unless you have access to unlimited styrofoam boxes. If you can find somebody who uses meal plan services, they typically use styrofoam boxes to ship their foods.
Additionally, being able to insulate the box/package will help the ice packs keep their effectiveness. Cool things stay cool. These two items should be enough to ship most chocolates in a safe manner. Be sure to fill up empty spaces so that everything doesn't get banged up during shipping.
How to ship hard candies?
While shipping hard candies will probably be easiest, here are a few tips to keep in mind. While hard candies are more resilient compared to other confections, they are still affected by extreme temperature or humidity changes.
It is advised to use desiccant packets or a coating of corn starch if the candies are melting and sticking together.
Individually wrapping the candies deals with most of the problems that come with packaging and shipping hard candies. Though this is probably too tedious for most of us.
Give the package a good rattle; you should not hear the candies clacking against each other (much). Otherwise, expect some cracks and chips to show up after the candy has been delivered.
Can you ship gummy candy?
Sealed, food-grade containers or bags should be enough for most gummy candies. However, be ready for locations with high ambient temperatures as this can cause melting and clumping of the product.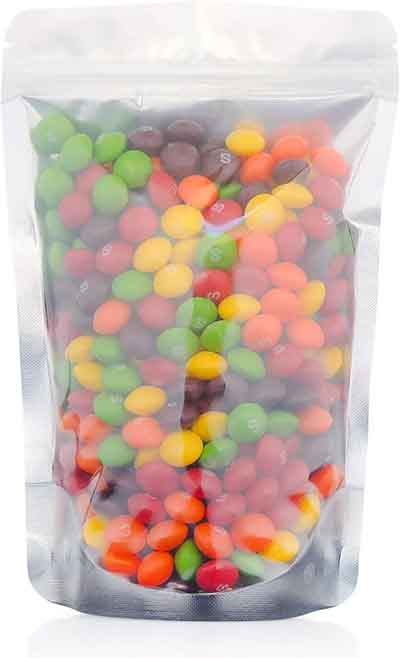 Many candy businesses use food-grade mailers with a clear window to package and ship their gummy candies. It's a cost-effective way to send out gummies that won't degrade during transit. Nothing is worse than gooey gummy candy!
What's the cost to send candy through the mail?
Always explore your local courier services. When deciding which mail service to use, take note of the average weight and size of your candy packages.
For candy businesses that plan to sell their products online, take shipping costs into consideration when pricing products.
For the most part, USPS First Class Package is going to be the best choice for shipping candy.
USPS – First Class Package Features
Delivery time of 2-5 business days
Best for packages under 13oz
Free tracking
Max size (22″x18″x15″) box
At the time of publishing, first-class small packages under 13oz start at $4.50 for the base service which includes tracking. Anything over 13oz starts at $7.10.
For current USPS shipping pricing, view their price list here.