If you're looking for the best way to dispense your candy, then you've come to the right place. Whether you are buying a gift for somebody who loves candy or needs a sanitary way to store and dispense candies, these dispensers will be sure to please!
In this guide, we'll take a look at the different types of candy dispensers and what factors you need to consider when making your purchase.
Candy dispensers are a great way to keep your candy and snacks organized. Some dispensers are even equipped with a contactless dispense so you can cleanly snack.
Factors to consider when purchasing a candy dispenser
Price – Low-cost dispensers will usually offer fewer features and may have a cheaper construction. For motion-activated dispensing, expect to pay a little extra!
Quality – While most candy dispensers are made of sturdy plastic, the common sticking point is how often the lever or dispense hole jams. It is also important to load the dispenser with appropriately sized candies that are not sticky or soft.
Size – It is important to also consider the base size of each candy dispenser. These dispensers are countertop and desktop-friendly ranging from 6″x6″ to 10″x10″. You don't want to end up with a dispenser that you have no space for!
Looks – Candy is supposed to be fun and a joy to eat. Whether you're going for a modern look or something with a fun theme, candy dispensers are the perfect add-on.
Type of Candy – Most candy dispensers will work just fine with Skittles, M&Ms, and other similarly sized candies. As your candy gets bigger or more irregularly shaped, you'll need a dispenser that will be able to accommodate! Peanut M&Ms, nuts, or jelly beans can get stuck in some of the more basic candy dispensers.
1. HandyGourmet Triple Candy Dispenser
Features a finger-press lever to dispense about 1 or 2 pieces at a time. Because of the small dispensing hole, any treat smaller than a jelly bean would be perfect for this dispenser.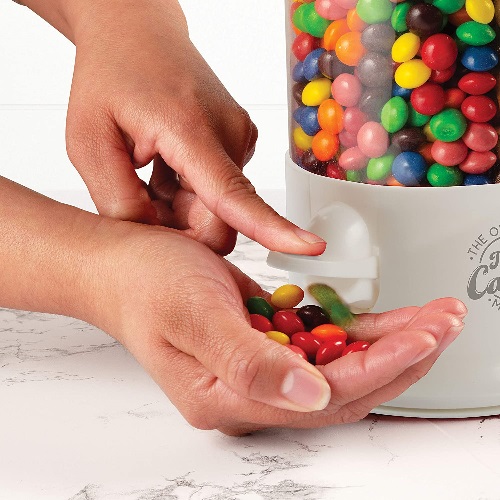 You don't have to worry about hands dipping into bowls of candy. Simply press the lever with one finger and catch the candy with the other hand.
It has a sturdy plastic build that swivels a full 360 degrees. It practically comes ready to use; just give it a quick rinse and let it dry before using it the first time.
Do not fill this dispenser all the way as it will jam the dispense lever easily.
Pros
Low Cost
3 compartments
Best for jelly beans, Skittles, or M&Ms
360-swivel for easy access
Finger operated hands-free
Cons
Dispenses 2-3 pieces at a time
Small dispense opening
Gets stuck with peanut M&Ms or peanuts
2. Sharper Image Motion-Activated Candy Dispenser
This is perfect for home use. It is not quite heavy-duty enough to be used in the office though it is much cleaner than having many hands reach in a bowl of candy.
Many users have reported that this machine only works with M&Ms and smaller-sized candies, despite what the manufacturer states.
A major downside to consider is that this dispenser does not come with batteries or an AC adapter. If you are able to plug this into an outlet, the dispenser will work better compared to using batteries.
Pros
Completely hands-free = germ-free
Large capacity (about 12.5 cups)
Perfect for Skittles or similar sized candies
Motion-activated
Cons
4 AA batteries (not included)
Can plug into wall with AC adapter (not included)
Inconsistent dispense amounts
Hyper sensitive motion sensor
3. Rocket Candy Dispenser – Motion Activated
This is the rocket-shaped candy dispenser is the perfect gift for all ages.
If you don't want to plug this unit in, it is portable as it is powered by 4 AA batteries.
The dispense is motion-activated through a sensor right under the dispensing hole on the front. No need to worry about germs by keeping fingers out of the candy jar.
Pros
Unique Shape
Large capacity (about 16 ounces)
Easy top refill
Motion-activated
Cons
4 AA batteries (not included)
6V Wall adapter not included
Plastic construction
4. Classic Red Gumball Machine – Coin Operated
This gumball machine features a classic, vintage candy dispenser look. It's a perfect gift to be used at home or at an office desk. Unlike the other candy dispensers here, this has a sturdy metal construction.
While it is advertised as a gumball machine, other candies (0.05-0.62 inch) will work just fine.
What's unique is that this machine can accept any American coin to dispense a gumball. There is also an option to remove the coin detector for free spins.
For parents, this is a great way to reward chores with coins to dispense their favorite gumballs.
Pros
Nostalgic look
Quality metal construction
Full disassembly for cleaning
Cons
Jams with pennies or dimes
Thin glass
What candy can you put in a candy dispenser?
When choosing candy or treats to dispense, make sure they are appropriately sized. Each dispenser will be able to differently sized and shaped candies.
It is also best practice to choose candies with a hard exterior. Soft or brittle candies can get stuck in the dispensing mechanism and cause jams.
Here is a list of candies that works in most candy dispensers:
Gumballs
Chiclet gum
Skittles
M&Ms
Mike and Ikes
Jelly beans