Did you know employees with access to snacks and refreshment during breaks boosts productivity?
If you are someone who loves to cook or have a strong sense of organizational skills then this article is suited just for you. Depending on which type and size of snacks to use, each snack dispenser has various features, pros, and cons.
This post covers 3 of the best snack dispensers for office use:
Smart Gear Snack Motion Activated Dispenser (Candy)
GAT200 Dry Food Dispenser Control (Cereal)
Rosseto 3 Container EZ Pro Dispenser (Professional Grade)
The different types of snack dispensers all possess different features that make them slightly different from the rest. To help you make a choice, here is a detailed review of the top 3 food dispensers to use in the office breakroom.
Best 3 Snack Dispensers For The Office To Check Out
Motion-Activated Kolmon Candy Dispenser – Budget-Friendly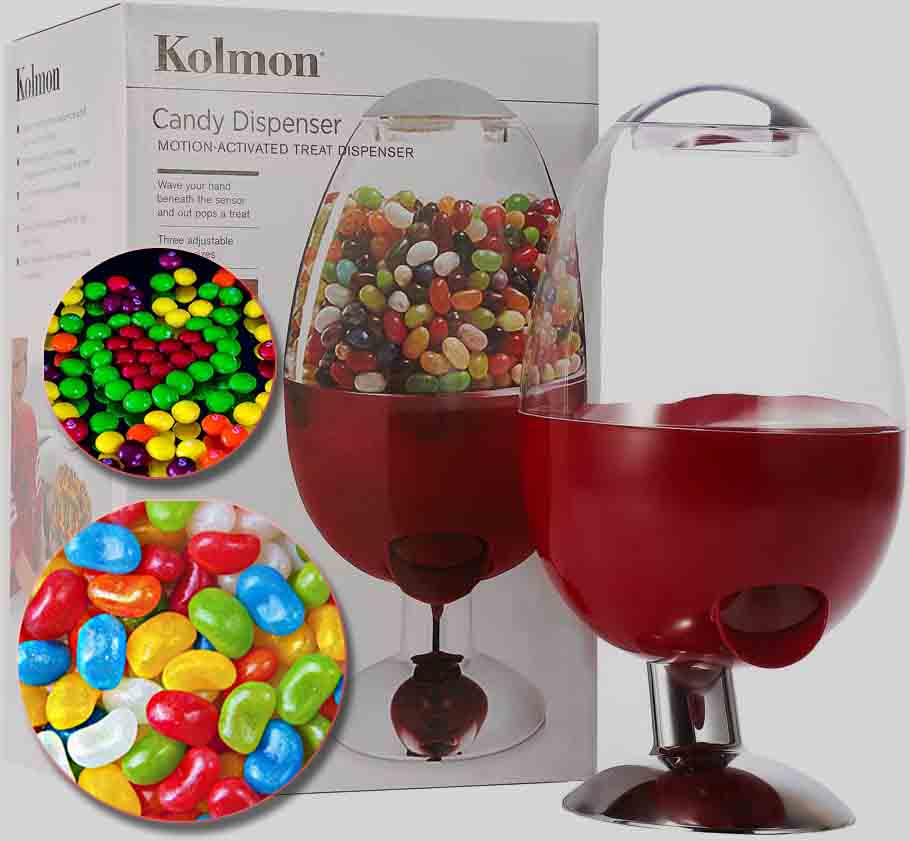 Best for candy. M&M's and jelly beans are the go-to choices
Key Features – Motion activated, touch-free, 3 adjustable serving sizes
This is a motion-activated dispenser that is specifically used for candy and other dry fruits. It is a must-have for any break room or reception counter.
Body – This is a medium-sized, half-transparent, and half-opaque machine that can hold one brand of candy one at a time. It rests on a circular flat base weighing 2 pounds. Its dimensions are 12.5 x 8 x 7 inches.
Batteries – It requires 4 AA batteries and has automatic sensors, which means that if one puts their hands at the exit of the machine, the candy will be automatically launched.
Pros
Easy operation – This is generally known as the candy dispenser for M&M's, but it can also dispense small dry snacks like nuts, sunflower seeds, almonds to name a few. Since this is motion-activated, the food items will dispense directly into the hands by waving in front of the sensor.
Touch-free, there is no cross-contamination or any germs spread.
Adjustable portions – There are 3 different durations that the candy can be dispensed: 3 seconds, 5 seconds, and 10 seconds.
If one is hosting a party and need some cool yet innovative gadgets around, this is your go-to device. Liven up the parties by installing these machines around popular hotspots of the house to dispense candies, and no coin is required to operate the machine to pop in the candy. 
Portable – It is known for its candy since it can add a jolt to the sugar rush. It will also be great for workplace parties and even Superbowl parties. It can be ideal for placing on countertops or kitchen surfaces without having to worry about any breakage. Candies like M & M's, gums, breath mints, and even jelly beans can be added, based on the requirement. 
Cons
Small – It can knock over easily, especially when candy is running low.
Motion Sensors – These are highly sensitive. The manufacturer has warned against placing it on a white surface as the color can trigger the sensors.
Limited candy filler – Most customers seem to use this machine with small hard candies such as jelly beans, Skittles, and M&M's.
GAT200 Dry Food Dispenser  – Cereal/Nuts
This is a double dispenser box that can hold various dry snacks in it. For busy people, this dispenser makes getting a serving of cereal easy and spill-free.
This food dispenser is also great for busy parents who need help whipping up a quick breakfast.
Size – This machine can hold up to 17.5 ounces.
Each of the canisters can hold up to 1 gallon of dry food with each twist dispensing about 1 ounce of product.
Storage – Since this is a compact machine, it requires very little space, and there will be no food spillage.
Pros 
Scratch-resistant and shatter-proof. 
Easy to fill and clean, also promoting free pantry space. 
Two separate canisters for a different filling. 
Portion control twists
Cons 
The bottom fit – The lower part of the machine isn't spacious enough to fit some bowls. For bowls that have a lot of curve and "height", most of them will fit underneath with enough turning of the bowl.
Crushes soft cereal – For cereals such as cheerios, the dispenser crushes a small amount. This is just the nature of the dispenser "grabbing" more cereal at the bottom. My personal trick to reduce crushing is to turn the swivel back and forth rather than turning the knob in full rotations.
Low sturdiness – The arms that hold up the canisters can lean under the weight. It won't tip over by itself however.
Rosseto 3 Container EZ Pro Dispenser – Professional Grade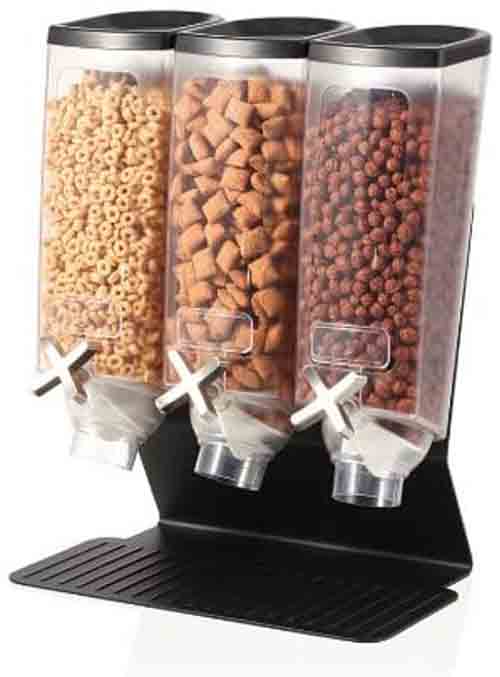 For any office kitchen, this is an absolute must-have. It can dispense almost anything: snacks, candy, or even toppings for salads and ice creams. Each column is sealed and separated, making sure the food stays contact-free!
Features
Size – This is a product that is usually purchased with three compartments but also sells one and two compartments. It weighs around 11 pounds and the dimensions of the item are around 9.5 x 15.25 x 18.5 inches
Swivel dispenses 1 ounce of serving
Pros
Controlled snacking
No mess and an easy-to-move lightweight dispenser. 
Fingerprint–free – Frosted sides of the canisters are smudge-free while maintaining full visibility of the contents
Can fill it in with salad topping and ice cream topping along with heavy snacks
Each of the compartments can hold up to 1 gallon of food articles, making it sustainable for storage. 
Cons
Cereal crusher – Some users say that it crushes their cereals, so in the process of dispensing it comes out all messy. 
Conclusion
Ultimately, your biggest concern is likely going to be durability. After all, you're going to want a dispenser that can hold up to use from multiple employees day after day. At the same time, it should also be reasonably easy to keep clean and fill. Any of these 3 snack dispensers will surely make a great addition to your breakroom.