Who doesn't love cotton candy? When I think of cotton candy, I remember the times when I was a kid at the carnival. It seems fun to collect many little strings of sugar into a delicious, sweet cloud that you can sink your teeth into or pluck away at.
However, it is quite a hassle to get quality cotton candy if you are anywhere outside a carnival. Sure, you can get that dense, packaged cotton candy from the local grocery store. But as soon as that bag is open, the candy will get exposed to humidity/moisture. The cotton candy then becomes too hard and dense.
But nothing quite beats the taste and texture of some freshly spun cotton candy cones. When it comes to using your own floss sugar, the flavors and colors are almost limitless.
For any celebratory event or even as a gift, we went through several cotton candy machines and found the best cotton candy makers that kids will adore!
Let's get into it.
---
Top Pick: All-Purpose Commercial-Grade Cotton Candy Machine
Why is this top pick?
Mess-free – The large metal pan catches every piece of cotton candy that forms, making it easy to collect onto a stick. Smaller, lower-powered machines can shoot bits of sugar that have not melted into floss yet!
Easy operation – As simple as pressing a button and waiting. It takes less than 30 seconds to produce a full cotton candy which beats waiting several minutes on my previous Nostalgia machine. When you have a large group of kids waiting their turn, they can eat as much as they want!
Uses hard candy – Other hobby-grade machines are inefficient when it comes to melting down hard candies. The VIVO is powerful enough to spin cotton candy out of most hard candies. (Pro Tip: Smash hard candy into bits before adding to floss head)
Easy to clean – Cleaning is a breeze. I usually use a bit of water in the head to flush out any remaining sugar and to cool it down for safer handling after turning off the unit. Removing the pan for a quick wash with hot water is all it takes. Occasionally, you may want to clean the head more thoroughly, and the manual recommends using vinegar for this. Fortunately, I haven't had to tackle any significant messes yet.
Very durable – With consistent care and cleaning, people have reported using this machine for years on end. If you plan to store it for more than a week without use, make sure to clean the floss head thoroughly beforehand.
Things to consider when looking for a cotton candy machine
Ease of use
Ease of cleaning
Size: Consider the size of the machine and how much cotton candy it can produce at one time. If you plan on using the machine for large events or parties, look for a larger machine with a higher output capacity or performance.
Dome or rim guard included? Stray bits of sugar can fling outside of the machine
What kind of sugar to put inside? Hard candies, table sugar, floss sugar? Cheaper machines are not powerful enough to properly melt down hard candies. Here are some fun, tasty candies to put inside a machine.
---
Top 4 Picks: Cotton Candy Machines for Kids
1. Budget-Friendly: Nostalgia Cotton Candy Maker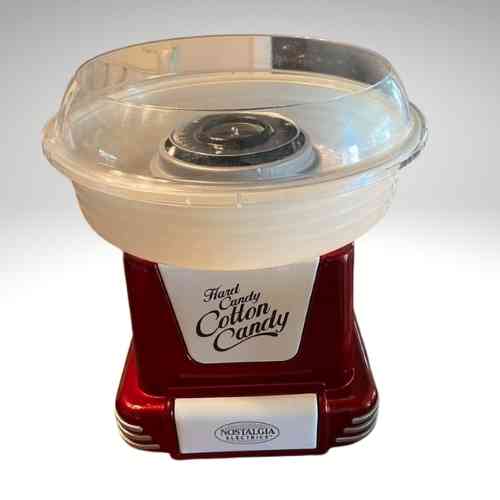 This machine right is about as cheap as it gets without sacrificing too many features or more importantly, quality. It comes with all the essentials to spinning your own cotton candy except for sugar itself (hint: floss sugar is the best sugar to use with cotton candy). I highly advise against using hard candies with this particular cotton candy maker as it is not quite industrial enough.
A tip to use hard candy is to smash it to bits and pieces before adding it to the heating floss head.
On the plus side, it's inexpensive, and you could experience many different flavors of cotton candy on a budget.
Product Information
Weight – 4.64 lbs
Dimensions – 12.5 x 12 x 9.25 inches
Included – 2 reusable cones, 1 extractor head, and 1 sugar scoop
Pros
Low cost
Perfect addition to home theatre
Cute vintage design
Rim guard prevents sugar from flying out
Cons
Have to clean in between each use, otherwise, it will clog easily
Small device = hard to clean
Long preheat times, up to 10-15 min
Trouble melting hard candy
Once heated, can take up to 3 minutes per serving
---
2. Best Starter Kit: Cotton Candy Express
Each jar of floss sugar produces up to 30 sweet cotton candy cones. This all-in-one kit is the perfect gift and comes with everything ready out of the box. It is also great for entertaining kids at home!
While this product has mainly high-rated reviews (over 2000, 4.5/5), we did some digging through all the 1 and 2-star ratings and found the following:
Bowl is very small; forming anything bigger than a small cloud is difficult because the center reservoir will heat up the cotton candy.
Texture of the cotton candy can sometimes be crunchy instead of soft
Very slow build up for low yields
Product Information
Weight – 8.31 lbs
Dimensions – 16.5 x 7.5 x 13.5 inches
Included – 50 reusable cones, 1 extractor head, and 1 sugar scoop
Pros
Super compact
Convenience of bundling everything
3 flavors to start with!
Cons
Small bowl
Slow warm up time
---
3. Variety Pack: Candery Cotton Candy Machine Review
For an almost carnival-like quality of cotton candy, this cotton candy machine from Candery is our top pick if you want to produce a lot of candy. It is a little bulkier than the previous machines but it is completely worth it.
It is quite compact and yet powerful enough to make fluffy cotton candies.
Product Information
Weight – 9 lbs
Dimensions – 17.5 x 13.3 x 7.7 inches
Included – 5 flavors of floss sugar, 50 candy cones, cotton candy machine, rim guard
Pros
Detachable bowl = easy to clean
Comes with 5 yummy flavors
Carnival-like quality
Cons
Not powerful enough for some hard candies
Up to 10 min for warming up
Inconsistent loudness in 200+ reviews
While you could use harder candies, we have found that results are too inconsistent. It just takes a while to melt and the consistency of the cotton does not come out quite right. This cotton candy machine works best with floss sugar. I do recommend strawberry floss sugar as a start!
This machine is perfect for a small gathering or birthday party. This will have the kids huddling around the machine shouting "My turn! My turn!"
But if you need something a little bigger, then keep on scrolling to see something a little bigger.
---
4. Heavy Grade: VBENLEM Cotton Candy Machine with Cart Review
Maybe you are looking for a machine that is bigger than a gift. Some people even rent out their commercial-grade cotton candy machines on their local marketplaces (Facebook, Craigslist, etc.).
For bulk quantities of cotton candy (think parties, birthdays, and other celebrations), you'll need something a bit more heavy-duty than hobby-grade cotton candy machines.
This machine features a sturdy construction and wheels for mobility, making it easy to move from place to place.
If you are using a form of sugar besides floss or granulated (such as hard candies), I highly suggest getting something like this. With the weaker machines, it is hard to use hard candies to produce quality cotton candy. Either the floss head gets clogged or takes too long to heat up.
If you want a machine capable of producing a large amount of cotton candy, this is the one. It is efficient enough to produce up to 7 servings per minute!
More than just a novelty item, this product is perfect for huge events like weddings and festivals. This is the perfect choice for providing entertainment and memories for all ages. It comes with everything you need to start serving delicious treats!
Product Information
Weight – 44 lbs (total weight)
Dimensions – 33 x 20.5 x 41 inches, 20 inches diameter food grade stainless steel pan
Included – 1 cotton candy machine w/ cart, 1 stainless steel scoop, 1 extra fuse, 1 installation kit
Pros
Commercial quality product
Easy assemble/disassembly
7 servings per minute
Perfect for parties and festivals
Precise temperature control for desired consistency
Can handle hard candies
Cons
Dome cover comes separately
Center gets very hot; keep young meddling hands away!
Most expensive
---
Frequently Asked Questions
What is a good flavor of floss sugar to use?
Bubble gum and blue raspberry are my personal favorite; however, you don't have to choose! If you are getting a cotton candy machine or already have one . . .
Here is a starter kit of 10 jars of different flavored floss sugar:
Green Apple, Orange, Bubble Gum, Chocolate, Pina Coloda
Pink Vanilla, Blue Raspberry, Banana, Grape, and Cherry
How much does a cotton candy machine cost?
Small personal, hobby-grade machines start ranging from $20-$60. This is enough for a couple of kids as it will take a few minutes to spin up a cotton candy.
Commercial-grade machines start at around $200 to over $1000. For large gatherings and events, it is worth investing in a cotton candy maker that can whip up a serving in less than 10 seconds.
Can you use powdery candies (like Smarties or Pixy Stix) in a cotton candy machine?
Yes, but because of the inconsistency in melting points, the center heating head can get clogged easily. It helps to crush the candy into a powdery consistency beforehand.
Can you use Kool-Aid in a cotton candy machine?
It works up to a point. According to TKOR from YouTube, the cotton candy made from cherry Kool-Aid ended up tasting just slightly burnt. Also, the melting point is a little higher than sugar so bits of Kool-Aid went flying out. Make sure to have a dome if you plan on using Kool-Aid to make cotton candy.